Meet Our Team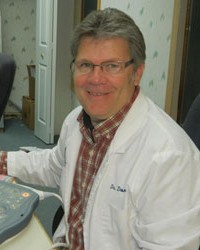 Dr. Don Fogle
Veterinarian
Dr. Don Fogle is a 1984 graduate of The Ohio State University of Veterinary Medicine. He holds a M.S. and B.S. in Animal science also from OSU. Dr. Fogle's area of special interest is in diagnostic ultrasound especially as it applies to veterinary internal medicine. Throughout his career, Dr. Fogle has served on a number of professional and civic boards and advisory committees including 16 years on the Pike-Delta-York school board, Professional Veterinary Products board of directors and 38 years as an official veterinarian for the Fulton County Fair. Dr. Fogle and his wife Margie have 3 children and 7 grandchildren. Dr. Fogle and his wife live in rural Fulton County with their Golden Retriever Casey, and their cat Jingles. In his spare time he enjoys traveling, landscaping, spending time with his wife and family, as well as attending his grandchildren's wide array of athletic and artistic activities.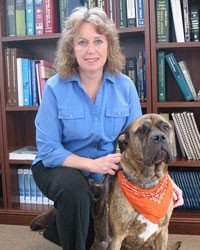 Dr. Joy Bishop-Forshey
Veterinarian
Ohio State University College of Veterinary Medicine

Dr. Bishop loves coming to work, caring for dogs, cats, llamas, alpacas and a few pocket pets. There was nothing else she ever wanted to do for a career. Dr. Bishop fell in love with animals in kindergarten, raising cats, dogs, mice and a few wild orphans. She started working at a veterinary hospital in Columbus, OH when she was 15 years old, and was grandfathered in as a Veterinary Technician. Dr. Bishop graduated from The Ohio State University College of Veterinary Medicine in 1982 and sort of "married into" partnership at Northwest Veterinary Hospital.

Dr. Bishop has 2 sons, Brandon who is a DVM, Teaching at The University of Findley and Brady who is a Turf Technician at Pinehurst Golf Course in Pinehurst NC. She was blessed with great kids. They have shown llamas and alpacas since they were 8 years old.

Dr. Bishop's spare time is spent raising over 30 llamas and alpacas, 2 dogs, 5 cats and 2 fuzzy bunnies. She harvests and uses the camelid fiber for spinning, felting, weaving and crocheting. She is an ALSA and ILR Fiber judge and ALSA halter judge.
Dr. Paul S. French
Veterinarian
Dr. Paul French, DVM is a 1998 graduate of Ohio State University College of Veterinary Medicine. Dr. French has been in private practice in Northwest Ohio since graduation. He has a special interest in behavioral medicine. Dr. French and his wife Carleen have 4 children and 1 grandchild. They have many pets on a small farm, including 2 horses, a dog named Kimber and several cats. They also have several farm animals, including chickens, goats, sheep, and turkeys. In his spare time, Dr. French enjoys hunting, fishing, and enjoying the outdoors while spending time with his family and traveling. Dr. Grace Norden
Veterinarian
Dr. Grace Norden is a 2023 graduate from Purdue University. She got her undergraduate degree in Animal Science from the University of Findlay. Dr. Norden is originally from Napoleon, Ohio where she grew up on a dairy farm. She works with both small and large animals and is still figuring out her special interests in veterinary medicine. Outside of work, Dr. Norden likes to spend time outside, crochet, read or go downhill skiing in the winter.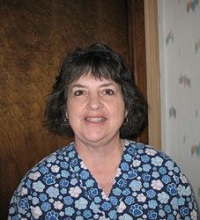 Anne McClarren
Registered Veterinary Technician
Columbus Technical Institute, Columbus Ohio Associate Degree, Veterinary Technology

Anne has always had a love for animals which is why she chose to become a veterinary technician. She has worked for Oregon Animal Hospital, Countryside Animal Clinic and Northwest Veterinary Hospital. Anne has been with NWVH since 1982 assisting wherever she is needed. It has been her pleasure to be a part of the NWVH team and help care for the client's and patient's needs. During the week, Anne is employed by Wauseon Schools where she is the head cook at the Wauseon Primary School. On the weekends, Anne is at NWVH.

While working at Countryside, she met Jared McClarren. They have been married for 44 years. Together they have raised 3 beautiful daughters(Jenna, Jera and Jessica). They have blessed them with 7 grandchildren who totally captivate their hearts. Anne and her husband live on a farm outside Wauseon. They are actively farming, have raised hogs and continue to raise freezer beef. Anne enjoys helping Jared on their farm, spending time together, being with their grandkiddos, working outside on her flower beds, mowing the yard and playing with Hank, their farm dog!

Anne would like to say, "Thank you for allowing me the privilege to help care for your pet!"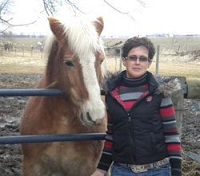 Missy Good
Registered Veterinary Technician
Columbus State Community College, Associate Degree, Veterinary Technology

When Missy was in 7th grade Dr. Bay and Dr. Tony Forshey came to her house to repair an umbilical hernia on a colt. That's when Missy realized she wanted a career in veterinary medicine; here she is 30+ years later! She has been with our practice since 1990.

Missy lives in Lyons with her husband, Brent and son - Mason. Missy enjoys being outside in the garden, tending to her flowers and yard. Her family pets include 2 cats- Gary and Gladys, Abby the dog, draft horses - Sunny and Warren pictured with Missy, and many rabbits used for her son's 4H project.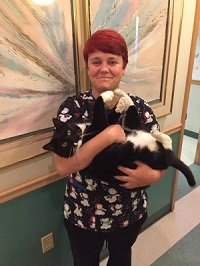 Audri Loyd
Registered Veterinary Technician
Audri started with us in September of 2016, she graduated from The International Business College of Fort Wayne. Her cats Walter, Cyprus, Baby Princess, Bruce, Ponyo, Castiel, Lucifer, Crowley and Finn all enjoy getting cuddled after work. She enjoys reading, drawing and napping when she can. Krystine Davis
Veterinary Technician
Krystine graduated from Stautzenberger College in 2021 with an AAS in Veterinary Technology. She started working at NWVH in Sept. 2021 She lives in Wauseon where she has lived her whole life and plans to stay so she can be close to family. Krystine has 2 critter of her own - Harley and Quinn, both DSH cats. She has always had a love for any kind of animal she meets and became a Vet. Tech to help give a voice to those that cannot speak for themselves! Summer Dwyer
Bio coming soon! Alisa Bosell
Receptionist
Alisa started at Northwest Veterinary Hospital in July 2007. Alisa and her husband, Casey, have three daughters, and 1 grandson. In her free time, Alisa enjoys being outside, going on walks and spending time with her family. Her pet family includes 2 dogs- Reggie and Stanley, 2 cats- Paul and Thomas.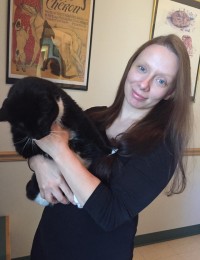 Rachelle Frank
Receptionist
Rachelle started with us in April 2017. She is originally from Delta, where she lives now with her daughter Elba. She enjoys being a mom and spending her free time with her daughter. Brandie Mull
Receptionist
Brandie started with NWVH in June 2019, she lives in Delta with her Family and 4-legged family which also includes 3 dogs- Howie Joe, Shane and Eddie, and 1 cat - Bynx, which she brought home shortly after starting her job here. She has always loved animals and had many types of pets growing up and through the years. Now she feels blessed to work with animals everyday!